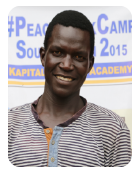 Okot Francis Otim is one of the students who attended both the Video & ICT Activism Training at Kapital Virtual Academy. He is also A journalist with basic skills, in cinematography, video editing, song writing , story writing/editing , video script writing and films directing also like reading, listening and composing songs, reading novels and fictions, playing football
---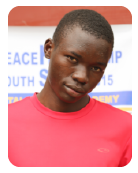 Patrick Amule Wilson Alimo is a South Sudanese Aged 23 with the Experience of Creative writing (Script Writer), Video Editor, Electrical Technician and Electronic Technician, Motorcycle Mechanic. He attained Secondary School Certificate, Degree in Law Criminology And Criminal Justice, Certificate In Video Editing  and Cinematography And ICT.
---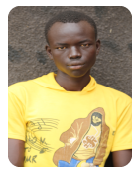 John Bior Ajang AKA BIOROLOGY, I was born in Kenya by south Sudanese parents raise in good faith as Christian. my life time as been full of fun and entertainment, am a comedian by nature and artist physically  ,am simple and also single and searching , I like everybody especially children because there is a way I feel when am with children than adult .
---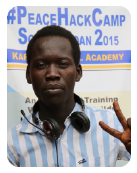 JACKSON JAMBU JAIKSANA on the surface, Is an extremely established member and pioneer of the south Sudan first innovation hub (Jhub) He completed his secondary school studies from Yei Day S.S. A well-resourced government school that built with various skills in Public speech, creative writing and social skills. While at school as his School head boy, Jackson Jambu made noticeable contributions that gained him love and popularity, during his tenure he formed student's associations, Organize joint debates and formed School Health clubs. In his most recent months Jaiksana has fed himself with an insatiable interest in Video making, media activism and Afro invention and innovation. His dreams and interests are deeply rooted in humanitarian concerns, peaceful co-existence and he looks to see the lives of people in his society made simpler through open source ICT, afro innovation and  Technology development his young country south Sudan. Jackson wishes to engage with thought leaders and high ranking decision makers to collaborate, thrive and make south Sudan a peaceful, prosperous state.
---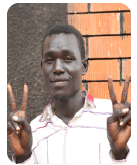 EMMANUEL LOBIJO JUSTO EKA south Sudanese local musician, an Actor, Director  also a video Editor/animation script writer (creative)  l love music and acting for film some film like shame on you Solomon, strength life, am amount the first lucky member of jHUB south Sudan. IT and VIDEO student at KAPITAL MOVIE INDUSTRY AND CORPORATION (KMIC) Student at ROKON SECONDARY SCHOOL, juba South Sudan. KAPITAL CORPORATION Facebook promoter. Well experience in social Media @elobijo/twitter jurto.taban/Facebook emmanuelking.over-blog.com emmanuellobijo.blog.com and a blogger
---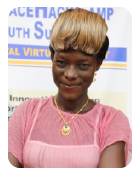 Galea Jenifer a 20 years old South Sudanese National, she is a school dropout who only stopped in senior three due to financial problems. She worked with PAH for three months in juba as a hygiene promoter after which she joined Kapital Movie for the two workshops of the ICT & Video activism.
---